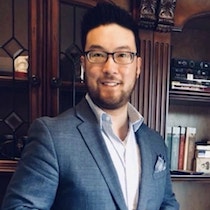 Ron K. Cheng
Ron K. Cheng is a trial lawyer, serving as Of Counsel at Kaplan Law, LLC. He graduated from Lewis & Clark Law School and is licensed to practice law in Oregon.
Ron didn't always know he wanted to be a lawyer. He was raised by immigrant parents from Taiwan and they knew very little about the law and what it takes to be a lawyer. However, they knew a lot about treating people right and they raised Ron with a sense of respect for humanity. At a young age, Ron would watch his father console and care for those suffering from depression and those going through family trauma. Ron watched his mother care for children with disabilities and advocate for their rights.
Despite not having a lawyer in the family and not really knowing what a lawyer actually did, his parents passed on to Ron the most important lesson any lawyer could learn: that the duty of every person is to protect the dignity of everyone, great or small. Ron started practicing personal injury law when he realized how insurance companies and big corporations would abuse that duty and cheat working class families by putting profits ahead of people's wellbeing.
Today, Ron works to balance the playing field and give everyday people a fighting chance by getting compensation for the underdog and restoring the dignity of those who have been hurt. Although he takes on a variety of personal injury cases, Ron specializes in catastrophic injuries, wrongful death, workplace injuries, dental malpractice, pharmaceutical malpractice, and cases against drunk drivers. To make sure every one of his clients gets the attention they deserve, Ron limits the number of cases he takes.
In a generation when most lawyers have never tried a case in front of a jury, Ron takes great pride in not being afraid of the courtroom. In 2018, he became one of the youngest lawyers in Oregon to get a unanimous seven figure verdict. Ron's proven record has put him on the list of Rising Stars in SuperLawyers since 2017.
In addition to his regular practice, Ron dedicates 10% of his caseload to pro bono work to make sure that the underrepresented and those with modest means do not get forgotten. Ron believes very strongly in community service and he gives back by volunteering as a coach with Jefferson High School's mock trial team. He also mentors students at Portland State University and Lewis & Clark Law School. For his work in the community, Ron was presented with the Public Service Award by the ONLD in 2015; the Outstanding Mentor of the Year Award at Lewis & Clark Law School in 2016; and the Community Spirit Award at the Lewis & Clark Law School Distinguished Graduate Dinner in 2016.
In 2018, Ron was elected to serve as a member of the Oregon State Bar House of Delegates, running on the platform of promoting community service and giving everyday people access to justice.
When Ron isn't working, he enjoys going twelve rounds in his home boxing gym or dueling his friends on the fencing piste. Ron is bilingual and speaks Mandarin Chinese.