Bicycle Accidents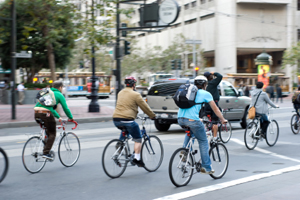 In Oregon and Washington, we are fortunate to live in some of the greenest, most environmentally-aware communities in the country. Portland has long been recognized as a bike-friendly city that attempts to promote cycling as a safe and environmentally friendly mode of transportation. Kaplan Law, LLC advocates both for Portland's biking community and for increased bike safety measures on our roads. We also work to help injured cyclists defend their rights.
Despite all the efforts of the city, cycling in Portland can be dangerous. Recent years have seen several crashes on the region's streets in which cars, trucks or TriMet vehicles have struck or killed bicyclists. Advocacy organizations like BikePortland still struggle to get bike-friendly infrastructure projects approved both by the city council and the state legislature in Salem. Even as bike lanes are added around the city and the region, known trouble spots still draw the attention of activists. Basic issues – such as places where bike lanes cross high-volume off-ramps or merging bike lanes on overpasses – need to be addressed.
Oregon law protects cyclists by applying most vehicle regulations to them under ORS 814.400 (Washington riders enjoy similar protections through RCW 46.61.755). The application of vehicle regulations to bike riders is critically important because it establishes an equal right for bicyclists to be on the roads. Recent legislation and court rulings in Oregon have reinforced bicyclists' rights by confirming that bike lanes extend through intersections even when they are not formally marked on the pavement, and by modifying the way 'Stop' signs apply to riders (in most circumstances they can be treated as 'yield' signs). The links at the bottom of this page are useful resources for those in search of more detail.
Something that is critically important in Oregon is the role of auto insurance in bicycle accidents, specifically Personal Injury Protection (PIP) coverage. If you have an auto insurance policy, or live with a family member who does, PIP will cover your initial medical bills if you are injured by a car. In Oregon, the minimum level of coverage is $15,000 of reasonably related medical bills. Washington's legal minimum is $10,000. If auto-related injuries are severe enough that the cyclist needs to miss work for more than 2 weeks, Oregon PIP coverage will also pay 70% or $3,000 a month (whichever is less) up to $15,000. Income replacement benefits are less generous in Washington, where they are capped at $200 per week.
If you have an auto insurance policy and also enjoy riding, I strongly recommend checking your policy to confirm that you have a minimum of $100,000/$300,000 in Uninsured/Under Insured Motorist coverage. This will give you some protection from careless drivers who may have no insurance, or state minimum policies ($25,000). Unfortunately, when a cyclist is hit by a car, the injuries can be severe. Minimum insurance policies are not going to cut it if someone must miss a lot of work or has extensive medical bills.
If you or a loved one have been involved in a bike crash with a motor vehicle it is important to understand how the law can help you deal with medical bills, insurance coverage, personal trauma or pain and suffering. Aside from the portions of Oregon and Washington law that apply specifically to bicycles and their riders, it is always important to examine the specifics of the case: to ask whether alcohol or drugs were a factor in the driver's actions, whether the driver's conduct was reckless or negligent and whether the road design, signage (or lack thereof) or other factors contributed to the crash.
As Oregon and Washington bicycle attorneys Kaplan Law, LLC can help you understand your rights.
Resources: