Distracted Driving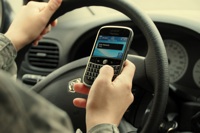 Photo by
C. Todd Lopez
/Courtesy of U.S. Army
Study after study has shown that using a cellphone while driving is dangerous and that sending or reading text messages behind the wheel is downright foolhardy. Moreover, the problem is getting worse. According to the National Highway Traffic Safety Administration "distraction" was a factor in 12% of vehicle crashes in 2004. By 2008 the figure had risen to 16%.
In January 2010 Oregon joined the growing list of states that ban using a hand held cellphone to talk or text while driving. At Matthew D. Kaplan, LLC we are experts in the relatively new - but rapidly growing - legal field of Distracted Driving.
Oregon's distracted driving ban allows drivers 18 and over to operate a motor vehicle and use a phone provided that they also use a hands-free device (such as a headset). Drivers under 18 are barred from using a cellphone while behind the wheel, even with a headset. All drivers, regardless of age, are forbidden to text while driving.
In the case of both calling and texting the law allows for "primary enforcement", meaning a police officer or other law enforcement official can pull you over solely for violating the distracted driving ban. Oregon law allows for fines of up to $90 for distracted driving and categorizes the offense as a Class D traffic violation.
There are a few exceptions built into the law: public safety & emergency personnel, for example. The law also specifically has an exception for "summoning medical or other emergency help if no other person in the vehicle is capable of summoning help," but the basic message is clear: stay safe... stay off the phone.
If you have been involved in an accident and believe distracted driving may have played a role, consulting the Law Office of Matthew D. Kaplan, LLC is a prudent step to take. We can help you explore your options and decide whether distraction was a factor in an accident, one that may entitle you to compensation for injuries suffered or wages lost, as well as for pain and suffering.
Resources
Governors Highway Safety Association - Cell Phone Driving Laws