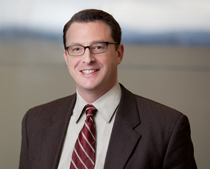 Matthew D. Kaplan
Matthew D. Kaplan graduated Cum Laude while earning his Bachelor of Arts degree in History from the University of Massachusetts, Amherst in May, 1993. Mr. Kaplan graduated from Loyola Law School in Los Angeles, California in December of 1996.
Mr. Kaplan began his legal career as a Law Clerk for the Honorable Judge Sidney Galton. While working at the Multnomah County Courthouse he observed a multitude of trials and developed valuable relationships with judges, court staff, and other attorneys. In 1998, Mr. Kaplan took his first job as a Trial Attorney working at the Southern Oregon Public Defenders. After working a year and a half in Medford, Oregon, Mr. Kaplan returned to Portland to work as an Associate Trial Attorney for Squires & Lopez where he represented thousands defendants charged in all level of criminal cases, ranging from traffic violations to the most serious felonies. He also developed a civil practice representing victims of automobile accidents.
In January, 2003 Matthew D. Kaplan decided it was time to open his own practice focusing on representing victims that have been injured as a result of another's negligent actions. By starting his own practice Mr. Kaplan is able to provide clients with the personal attention needed to get them through difficult situations, combined with intelligent aggressive representation. Since 2003 Mr. Kaplan has successfully represented hundreds of injury victims and their families. He has taken on fortune 500 companies for their horrifically unsafe work conditions that lead to catastrophic injuries or wrongful deaths in industrial accidents; held bars and taverns accountable for serving visibly intoxicated customers that injured or killed innocent people while driving. Mr. Kaplan has stood up for our most vulnerable members of society by protecting children, disabled adults, and the elderly against municipalities, nursing homes, youth camps, and care facilities that have violated the public's trust. Mr. Kaplan has also taken on county jails for Civil Rights violations that resulted from deliberate indifference of deputies/medical staff not providing essential medical care.

Kaplan Law, LLC, has changed addresses five times since opening in 2003. In November of 2017, Kaplan Law, LLC moved for what should be the final time. Matthew Kaplan and his business partner were able to purchase the building at the firm's current 50 SW Pine Street location. This will provide greater stability and ease of access to our clients that prefer to take TriMet into Portland. The office is located 1 block from the SW Oak Street MAX stop.

Matthew D. Kaplan is a member of the American Association For Justice, Oregon State Bar Association, the Oregon Trial Lawyers Association, and the Washington State Bar Association. He is also admitted to practice in the United States District Court of Oregon and the United States Court of Appeals for the 9th Circuit. He volunteers his time on the Advisory Board for Safe Kids Oregon. Safe Kids Oregon is a nonprofit organization dedicated to prevention of unintentional injuries to children. He also volunteers to help with coaching his kids in various activities. In 2010 Mr. Kaplan was recognized as a Rising Star by Super Lawyers magazine. In 2012-2019, the same publication recognized Mr. Kaplan as an Oregon Super Lawyer for the category of Plaintiffs Personal Injury Attorneys. In 2013, Mr. Kaplan was granted the highest peer rating of AV by Martindale Hubbell.

Matthew D. Kaplan lives in Southwest Portland. He is the father of two rambunctious boys that enjoy sports, video games, and theater. He is a 2nd degree black belt in TaeKwon-Do, aspiring triathlete, mountaineer, and is an avid reader of historical fiction and nonfiction books.